1) Highlights: Internship for 1st/2nd Year Engineering Students
Knowx-Internship will have an opportunity to learn in-demand technology skills. Every intern will work towards solving real-world problems using advanced tools and technologies like AWS, AZURE, GOOGLE, GitHub, AI/ML, IOT Hardware. All students will have to work on a live project by using the above technologies.
These programs have been designed as per AICTE norms and ensure the curriculum is aligned with the National Education Policy, 2020. An internship program for undergraduate students. The program is open to students who are studying in 1st,2nd,3rd and 4th Year of engineering of BE/Btech/BCA/MCA from all specializations. Lets discuss on Internship for 1st/2nd year engineering students. Apply any as below:
Artificial intelligence and Machine learning

Embedded systems & IOT

Cloud Computing-AWS/AZURE/GOOGLE

Full stack web development

Python programming and Application development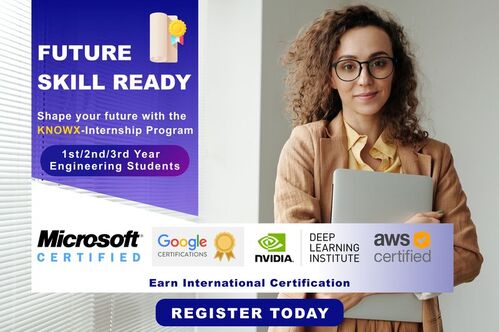 2) Why Internship is Important for 1st/2nd Year Engineering Students
As per the AICTE norms guidelines, all engineering and BTECH students have to undergo three internships during their degree course. The three internships include one after the first year (3 weeks), the second one in the second year (4 weeks), and the third one in the final year (24 weeks).
Internships are a great opportunity for students to stay relevant to the industry skill demand and upgrade their skills as per the industry requirement. Students will have to work with industries, government bodies, NGO and MSMEs in the area of their interest or streams.
These internship programs objective is to improve students' employability and help develop students' research capabilities.
3) Ten internship programs for 1st/2nd year students
3.1) Artificial intelligence and Machine Learning Intern
Our Machine learning and AI internship training is for Fresher's, Students, and Job seekers, Candidates who aspire to build a career in machine learning and AI can apply
Artificial Intelligence Introduction

Deep Learning concepts

AI & Machine Learning Algorithm

Supervised Learning in AI and ML

Unsupervised Learning in AI and M

AI Implementations
3.2) Embedded systems & IOT Internship
Students who want to build careers in IOT and Embedded who can develop scalable and efficient firmware by participating in all stages of the embedded software & hardware, development life cycle including development, design, testing, and validation, PCB/product.
Proficiency in embedded C

Practical experience in ARM Cortex Microcontrollers, Arduino, Raspberry pi.

Practical experience on communication protocols like UART, I2C, SPI, CAN

Comfortable in dealing with embedded systems and hardware like DMM, Oscilloscopes, Debugging tools etc.

Practical experience on RTOS

Experience with IoT protocols (BLE/WiFi/Ethernet)

Proficiency in Python/C++ is a plus

Good communication skills
3.3) Cloud Computing-AWS/AZURE/GOOGLE Interns
Cloud Internship training is a structured program aiming to hone your skills to design, develop, deploy and secure your infrastructure and maintain business applications on the leading cloud computing platforms.
As many companies are moving their infrastructure to cloud, the demand for Cloud Engineers is increasing

Interns will Gain Practical hands-on experience on AWS, Google & Azure Cloud. along with live projects.

Cloud Internship training program aims to train and earn international certifications from AWS, AZURE, GOOGLE
Job Roles: Cloud Software Engineer, AWS Cloud Architect, Operational Support Engineer
3.4) Full stack web development interns
Development of front-end – With the help of HTML/CSS and JavaScript frameworks and libraries, the developer must be able to build interactive user interfaces. Design the backend of the application.
Build a complete web product like Zomato, Uber, etc.

Master Web Development, Java script & MERN stack

100% hands-on training with live projects.

Gain Knowledge of multiple front-end languages and libraries (e.g. HTML/ CSS, JavaScript, XML, jQuery)

Knowledge of multiple back-end languages (e.g. Java, Python) and JavaScript frameworks.
3.5) Python programming and Application development
Python has become one of the most preferred and widely used programming languages in the industry
Interns will build top 10 skills with live projects required to become a Python Developer:
Expertise in Core Python

Good grasp of Web Frameworks

Object Relational Mappers

Road to Data Science

Machine Learning and AI

Deep Learning

Understanding of Multi-Process Architecture

Analytical skills

Design Skills

Communication skills
4) How can I get a 1st/2nd year engineering internship?
Consult your placement & training officer in the university, and let them know your area of interest and your career options, they may refer to the companies that they are associated.

Talk to your networks of family, friends, professors, and mentors you currently know

Research in industry connects, they may be able to refer you to people in their networks whose companies hire interns.
5) What can you learn from a 1st/2nd year of engineering internship?
Demand for skilled engineers is rising every day and Engineering internships will give an opportunity for students to hone in-demand technical skills, professional ethics, and communication skills. They are exposed to real-time projects which helps them to gain hands-on training.
6) What are the most common internships for 1st and 2nd year B tech/BE students?
Students can focus on emerging technologies like Artificial intelligence & Machine learning, IOT& Embedded systems, VLSI, Web development, Software Engineering, Full stack web development, design, and development of products, c, c++ coding and learning programming languages.
7) FAQs on 1st/2nd Year Internships
7.1) Who can apply for the CITL Prefinal year Internship?
All Engineering/BTech Students who are studying in any of the AICTE-recognized technical universities can apply, Some of the top universities students of VTU, VIT, JNTU,RVCE, PESIT, REVA,DAYANAND SAGAR, etc. are undergoing their internships at CITL
7.2) How to apply for 1st and 2nd year engineering internships in CITL?
You can visit our web URL- internships for engineering students and register you name by filling in all credentials.
7.3) Does CITL provide Real-time projects?
Students will get an opportunity to work on real-time projects in various technologies like IOT,AI/ML,WEB,CLOUD etc..
7.4) Does CITL provide research projects or academic projects?
CITL-Tech varsity in one of the top Project training centre for research projects in emerging technologies.
7.5) Which branch students from 1st/2nd year engineering can apply for internships?
Students who are studying ECE, CSE, ISE, EEE, and Mechatronics and all students from 1st,2nd ,3rd, and 4th-year students can apply for internships in their interested domain.
7.6) Is internship compulsory for engineering students?
Yes, it is a must for engineering students. It gives them hands-on training on live projects and helps them gain industrial experience. This will help the students to build their portfolios for their career development.